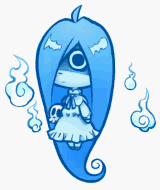 Colleen
, known as
Colon
(コロン
Koron
) in Japan, is a ghost girl that runs the
Haunted Mansion
. In Episode 4 of
Touch Detective 2 ½
,
Mackenzie
and
Penelope
try to discover the whereabouts of a girl
Silver
had mentioned to cheer him up. Mackenzie discovers that Colleen is the girl Silver saw and that she is a real ghost, but she became visible and is unable to be invisible due to a strange incident that happened in the
Greenhouse
several years ago, which involves the Greenhouse's glasses. She asks Colleen to talk with Silver, and after some shy reluctance, she talks with him and they become friends. When Colleen touches the Greenhouse's glass, she disappears and Silver regains his singing voice. Later in the Bonus Episode Colleen learns a way to become visible again by using the Greenhouse's glass, but when she is visible Silver loses his singing voice, and he gets it back when she turns invisible again. Colleen winds-up Silver when needed.